If you're planning a holiday and you use a mobility aid – such as a travel mobility scooter – to get around it's essential that wherever you're staying has suitable disabled access. Arriving there and not being able to get through the front door due to poor access is the worst-case scenario. To make sure this never happens to you here are ways to check whether a hotel – or other overnight destination – has disabled access beforehand.
Check the Hotel Website
The first port of call to find out if a hotel has disabled access is to check the website. A well designed one will have it clearly laid out in a 'facilities' section – or something similarly named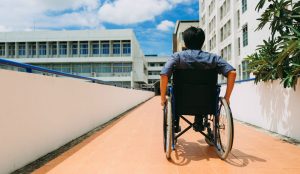 – so you shouldn't have to look too hard to find it. Chain hotels will likely be best at this due to having dedicated marketing departments for websites, whereas independent hotels are perhaps less likely to have this information so prominently displayed.
It's also worth noting that Airbnb has recently added filters to its search function to help customers find accommodation with disabled access. Additionally, there are disability focused accommodation websites such as Accomable, who themselves have teamed with Airbnb to provide clearer information on accommodation with disabled access.
Contact the Hotel in Question
If you can't locate the information you need on the website of where you're staying then the next most immediate step is to contact them directly. It's far more likely that they will have a phone number or email address on their website. They may even have links to social media pages such as Facebook or Twitter. Additionally, if it's a particular hotel within a chain then be sure to contact the specific hotel, rather than the company as whole.
Before you go ahead and contact a hotel or owner of the accommodation it's important to consider the best way to do so. For domestic locations a phone call is always the most immediate way but contacting abroad locations this way can end up costly. Instead, using social media or email may be better. Social media can be especially useful as you can ask them publicly, encouraging a faster response.
Check Review Sites
If you still can't get hold of the information you need from the hotel sources themselves – and haven't been discouraged from staying there – there is one more place that could help. Review sites will have experiences from a wealth of past customers and there is a good chance that there will be information about disabled access within them.
The largest review site that will be likely to have the information is TripAdvisor. Not only will there be reviews and ratings from customers, but there is also information provided by the website that shows you the facilities available; such as disabled access. This especially useful for little Bed and Breakfasts as they may not have easily available contact info, but many reviews.
If you have attempted to find the information you need from all these sources then it's probably safe to assume that the hotel does not have disabled access and you should look elsewhere.