Victory Pavement Mobility Scooter
PAVEMENT MOBILITY SCOOTER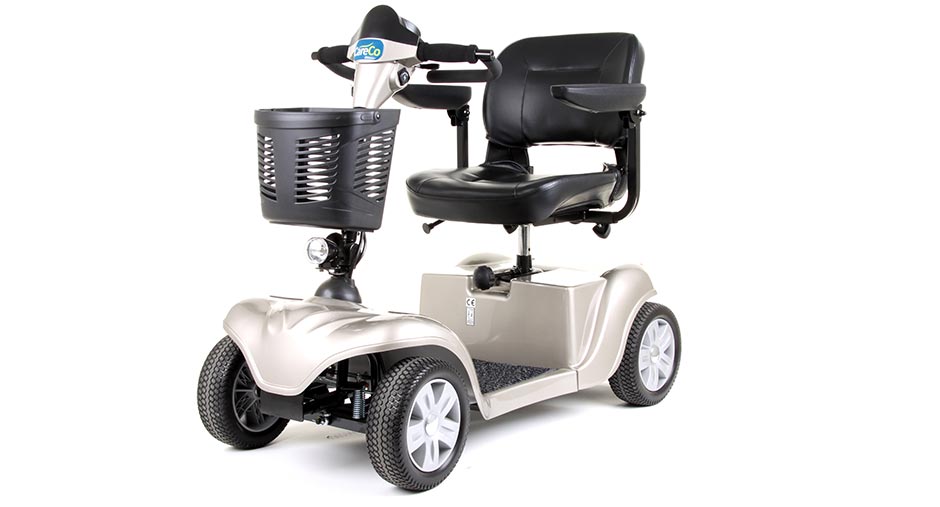 Speed
The Victory pavement scooter is capable of a top speed of 4mph. This scooter can be used on pavements for shopping or transported easily for days out.

Maximum Range
The Victory pavement scooter can carry a passenger on  full charge up to 20 miles. The maximum distance does depend on the user weight and terrain you are travelling on.

Maximum Weight
The Victory is a robust pavement mobility scooter with a maximum user weight of 21 stone. With suspension and a comfortable seat you are assured of a comfortable journey.
Victory Pavement Mobility Scooter
The Victory pavement mobility scooter is packed with many features you would expect to find on a more expensive scooter.
One of the great features the Victory boasts is front suspension. Regardless of where your travels take you the Victory pavement scooters front suspension will get you there smoothly. When travelling long distances on your mobility scooter there is a chance of aches and pains developing, with the suspension this is greatly reduced.
If you are planning a long journey, the Victory pavement mobility scooter can travel up to 20 miles with a 21 stone passenger. You can easily enjoy a day out with a 20 mile range! The Victory is capable of a top speed of 4mph, this is ideal for travel on pavements and shopping centres. For riding in heavy pedestrian traffic you can use the handy speed control on the tiller to fine tune your speed.
Always with safety in mind, the Victory pavement scooter includes an array of safety features as standard. If your trip takes you out at whilst light is fading the Vicotry has powerful front headlights to help you find your way home and alert others you're there. With it's electromagnetic braking system the Victory can easily stop when needed. To keep you safe an anti-slip mat keeps your feet securely on the scooter when in use.
Keeping comfortable whilst out travelling is a major factor in the deign of the Victory pavement scooter. A comfortable padded seat with flip-up adjustable arm rests coupled with the front suspension gives a nice smooth ride. Sporty looking 10 inch alloy wheels with solid tyres ensures the scooter looks good and doesn't suffer from punctures.
Whether you are carrying a picnic for your day out or need storage for your shopping the Victory pavement mobility scooter comes with a handy front shopping basket.
Victory Pavement Mobility Scooter
PRODUCT FEATURES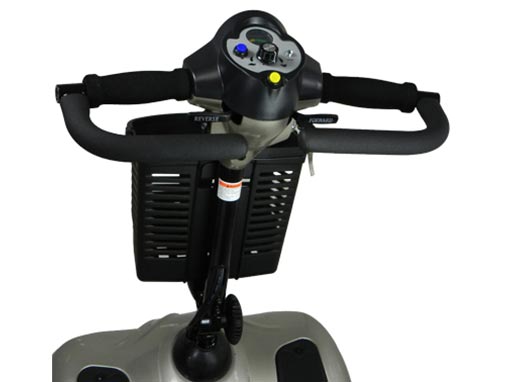 Delta Tiller Bar
The Victory scooter is fitted with a simple to use delta tiller bar, designed to help those with aliments in their hands such as arthritis sufferers to more easily control their mobility scooter.
The tiller also has a horn to warn others of your presence and a speed control to fine tune your speed when driving in heavy pedestrian traffic such as pavements or shopping centre.
Comfortable Seat
The Victory scooter has a padded seat with fold-up arms and swivel seat. This makes getting onto and off the mobilty scooter simple.
Fitted with front suspension the Victory makes light work of uneven and bumpy pathways. With it's padded seat and suspension you can be asssured of comfortable journey wherever you're off to.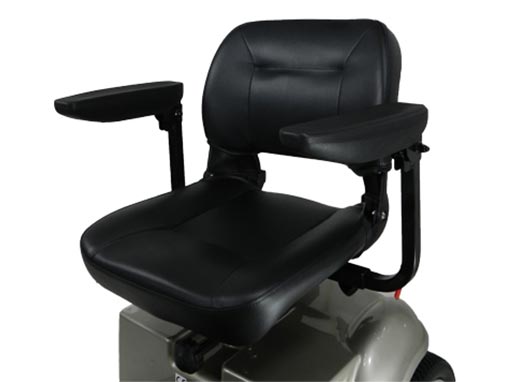 Buying the Victory Pavement Mobility Scooter?