ATTO Freedom Travel Mobility Scooter
FOLDING TRAVEL MOBILITY SCOOTER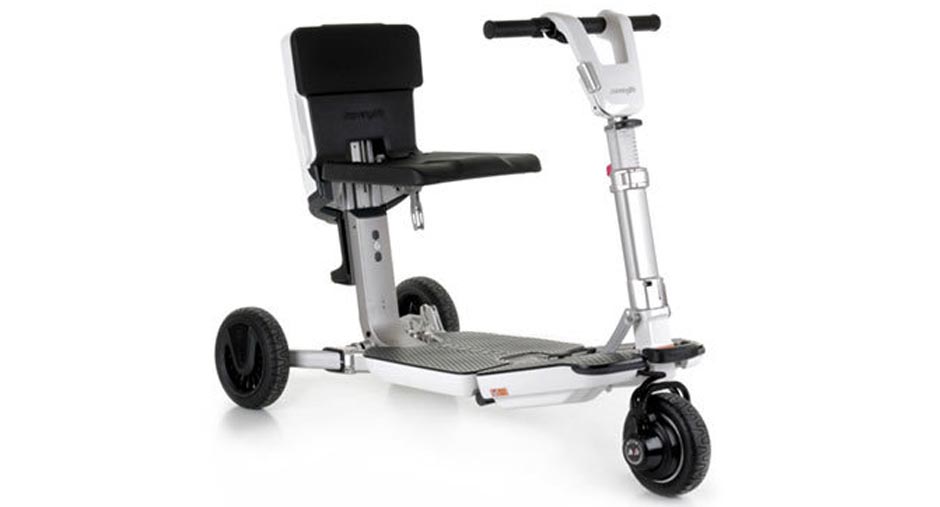 Speed
The ATTO Freedom travel mobility scooter is capable of a top speed of 6mph. This scooter can be used on pavements for shopping or transported easily for days out.

Maximum Range
The ATTO Freedom scooter can carry a passenger on full charge up to 10 miles. The maximum distance does depend on the user weight and terrain you are traveling on.

Maximum Weight
The ATTO Freedom is a robust travel mobility scooter with a maximum user weight of 15 stone 10lbs. An adjustable tiller allows you to adjust to suit your seating position.
ATTO Freedom Travel Mobility Scooter
The ATTO Freedom Scooter has a dynamic modern style and comes packed full of the latest technology. With is fast charge batteries you can fully recharge you travel scooter in a mere 4 hours. Not only are the Freedom batteries capable of fast charging they are also airplane safe. If you're planning a trip abroad why not take the ATTO with you and enjoy even more of your holiday!
The ATTO Freedom has a folding mechanism to turn your travel scooter into a compact, easy to transport package on wheels. If you are packing your ATTO Freedom for a flight you can split it into 2 smaller pieces to fit into your luggage.
If you are a frequent user of public transport the ATTO is ideal. Once folded you can wheel the scooter to your train platform or bus stop with ease. Weighing only 16.2kg it's not too much of a struggle to take your mobility scooter on-board.
ATTO Freedom Travel Mobility Scooter
PRODUCT FEATURES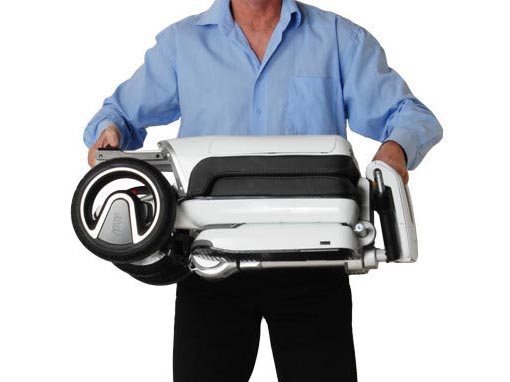 Transportable
The ATTO Freedom Scooter can be folded down into a super compact size that fits smugly into a suitcase for trips abroad.
Not only easy to store but will fit into the boot of your car. If you use buses or trains the Freedom travel scooter can be wheeled along and easily lifted on-board.
As you can see from it's compact size it's easy to manage and even carry.
Holiday Safe
Don't worry about enjoying all the excursions when you're abroad on holiday. The ATTO Freedom has airplane safe batteries, that means you can take the scooter with you on an aircraft without hassle.
It doesn't matter if you are going by coach, plane or even on a cruise, the Freedom is the perfect holiday partner, ensuring you get the most from your break away.
Did we mention it can fully recharge in 4 hours? If that wasn't enough it even has an on-board USB charger so you can keep your smartphone or tablet charged on the go!
Read our blog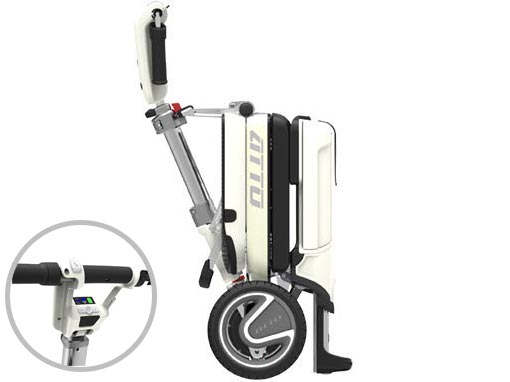 Buying the ATTO Freedom Travel Scooter?