AirLite 3 Travel Mobility Scooter
TRAVEL MOBILITY SCOOTER

Speed
The Airlite 3 travel scooter is capable of a top speed of 4mph. This scooter can be used on pavements, at shopping centres or transported easily for a day trip.

Maximum Range
The Airlite 3 travel scooter can carry a passenger on  full charge up to 8 miles. The maximum distance does depend on the user weight and terrain you are travelling.

Maximum Weight
The Airlite 3 is a small yet robust travel mobility scooter with a maximum user weight of 18 stone. Ideal for taking on a cruise ship holiday, airplane or day trip.
Airlite 3 Travel Mobility Scooter
With an advanced next generation splitting mechanism, the AirLite 3 travel scooter can be taken apart by simply pulling a lever on the back of the scooter that releases rear of the scooter from the rest of vehicle. The AirLite 3 scooter can be disassembled into five compact and easy to manage pieces that can be placed with little difficulty into the boot of your car and can also be stored in your home even where there is limited space.
Airlite 3 Travel Scooter
PRODUCT FEATURES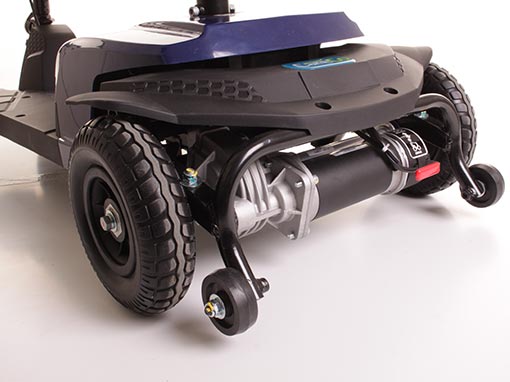 Airlite 3 Travel Scooter Rear Wheel
The AirLite 3 can be broken into five manageable pieces.
This makes the AirLite 3 ideal for storing and also taking with you in the boot of your car.
As a result the AirLite 3 is the perfect mobility scooter for days trips and going on holiday.
Tiller
The AirLite 3 travel scooter comes with  standard tiller, designed to enable easy control of the scooter.
The tiller has two levers to move the scooter, one for forward movement, the other to reverse the travel scooter.
Buying the Airlite 3 Travel Mobility Scooter?