Drive Mercury Envoy 4 Pavement Mobility Scooter
PAVEMENT MOBILITY SCOOTER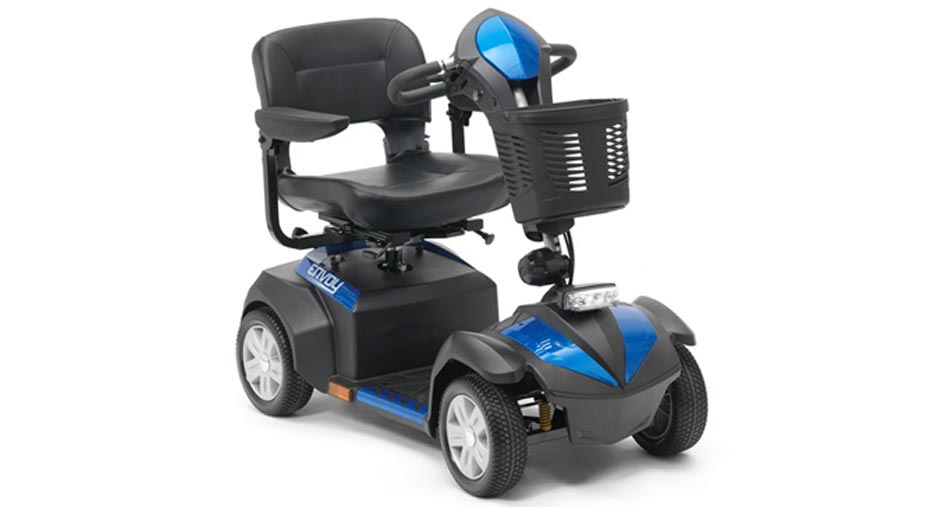 Speed
The Envoy 4 Pavement Scooter is capable of a top speed of 6mph. This scooter can be used on pavements  for shopping or transported easily for days out.

Maximum Range
The Drive Mercury Envoy 4 Pavement Scooter can carry a passenger on full charge up to 30 miles. The maximum distance does depend on the user weight and terrain you are travelling on.

Maximum Weight
The Drive Mercury Envoy 4 is a robust pavement mobility scooter with a maximum user weight of 25 stone 3 lbs. With suspension and a comfortable seat you are assured of a smooth journey.
Drive Mercury Envoy 4 Pavement Mobility Scooter
You are ensured a comfortable ride with the Envoy's all round suspension system fitted as standard to smooth out any bumps on your journey. With the padded, upholstered, adjustable Bosun style seat you count on a comfortable journey.
The tiller is designed to be adjustable to suit the users preferred position, and comes with delta steering control. The delta tiller is more comfortable for the longer journeys, and makes controlling the scooter easier for those who have weak hands or issues with grip. As standard a sturdy front basket is included to put your shopping in if you are heading out for a trip to the shops.
Your safety is paramount, the Envoy 4 Scooter comes with a powerful LED front light so you can see and be seen in fading light. To enure you keep a good grip the Envoys also has stylish alloy wheels and low profile black tyres.
Although the Envoy 4 Pavement Scooter may be compact, there is no compromise regarding the performance of this mobility scooter. With a top speed of 4 mph, and a maximum user weight of up to 25 stone, the Envoy 4 scooter is on a par with many larger models. Couple this with the impressive range of up to 30 miles between charges and you can see why the Drive Mercury 4 mph Envoy 4 is a class leader.
The Envoy 4 is manufactured by the Drive Mercury brand, this ensures a focus on comfort, style, performance and reliability.
Drive Mercury Envoy 4 Pavement Mobility Scooter
PRODUCT FEATURES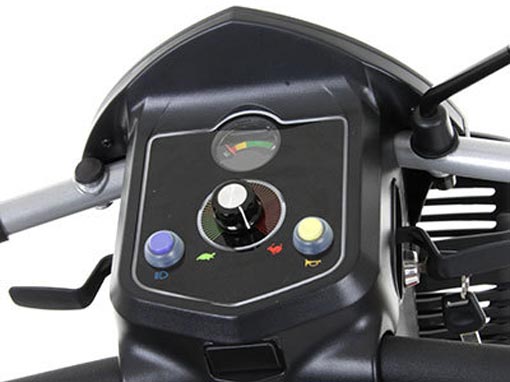 Delta Tiller Bar
This pavement mobility scooter is fitted with a delta tiller bar that is designed to help those with aliments in their hands such as arthritis sufferers to more easily control their mobility scooter.
Suspension
The  pavement scooter is fitted with suspension that reduces the friction felt when riding on the mobility scooter ensuring a comfortable journey.
Visit our blog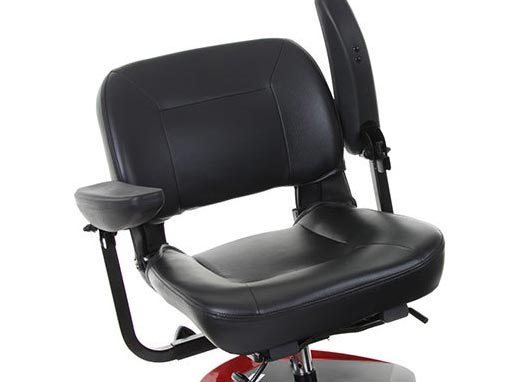 Buying the Drive Mercury Envoy 4 Pavement Mobility Scooter?